Construction
Roads and highways, tunnels, subdivisions, sports fields, townhouse developments
Waste
Landfill mining, waste reduction, recyclables processing
Mining
Turn coal mine overburden into topsoil

Turn unsuitable materials, subsoil and coal mine overburden into specification topsoils including AS4419, MRTS16, R178 and custom sports field growing media.

Geotechnical soil amendments
Adjust particle size distribution, plasticity index, compactibility and more to turn site materials into specification fill for dam wall upgrades, landfill liners and highways.

Permanently immobilise PFAS in soil and reduce PFAS leachate levels to undetectable levels or to a level where it can be safely disposed of in landfill or even reused onsite.

Acid sulphate soil remediation
Accurately blend lime so acid sulphate soils are able to be reused onsite instead of disposed of.

Asbestos contaminated soil remediation
Separate non-friable asbestos and other C&D waste from soil so it can be reused onsite.

Separate waste from soil to reduce the amount of waste being disposed of offsite or reduce the classification and cost of waste disposal.

Sorting and processing of old landfills and illegal tip sites to reduce the cost of relocation and recover usable resources.

Run temporary licensed composting facilities to turn an infrastructure or subdivision site's green waste into MRTS16 or AS4454 compliant soil conditioner or compost.
SoilCyclers have been screening, sieving, blending and mixing soil using trommel screens since February 2009. We are willing to give challenging materials and difficult projects a go, often with excellent results. We have the safety, environmental and quality processes needed to work with tier one contractors, on Defence projects, infrastructure projects and mining sites. We have the ideal machinery to deal with wet soils and heavy clay soils. We are completely mobile and work on your site, reducing the number of trucks on local roads around your project and helping reuse your site's materials as part of your project rather than using virgin resources.

OUR GUARANTEE
We guarantee accurate mixing and the lowest oversize rates.

AFTER CARE
Help available from qualified soil scientists, contamination and revegetation experts.

SAFETY AND ENVIRONMENT
Full environmental licenses and an outstanding safety and environmental record.

AWARDS
Award-winning specialist mixing contractor with regular features in TV, radio and news media.
GOT SOME TRICKY MATERIAL AND NOT SURE
WE'RE GOING TO BE ABLE TO HANDLE IT?
Heavy clay soils, blacksoils, damp soils, wet sand, C&D waste, wet compost and more are not a problem for our gear. We have a highly mobile skid steer and trommel screen setup available for trials if needed to demonstrate our capacity to deal with challenging materials.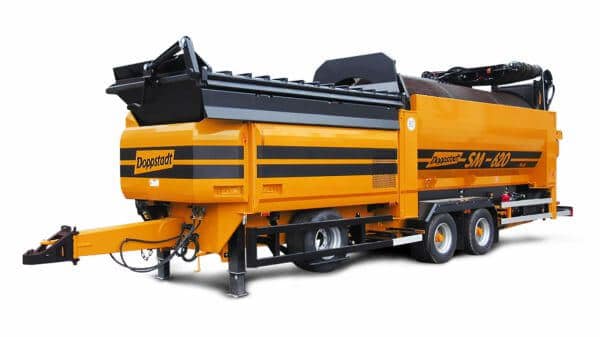 We use Australia's largest road-registered mobile trommel screens to separate waste, aerate and blend whatever materials the soil scientist requires. Our gear is mining, infrastructure and waste site-ready and we work throughout Queensland, New South Wales, Victoria, the ACT, the Northern Territory and beyond on any project where we can save our clients money.
Looking for a team of experts who can save you money and add value to your job?
That's us! Give us a call today